The Creatures Community Spirit Festival of 2017 has now ended. It's been a fun time.
During this CCSF, there were mostly releases, no real activities or events, which was a bit of a missed chance. The releases quite made up for it though.
If you haven't checked the CCSF website yet, please do! You can find it at https://ccsf-2017.blogspot.com/. A lot of agents have been released. I haven't had time to check out all of them, but I'll talk about some here.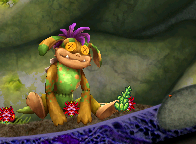 For example, the Gren-Dell computer is an awesome thing that came up in the Norn Nebula discord, some people were joking about it and it actually got made. The screens are precious, I would totally recommend this toy if you want some giggles. 😀
Me and Linda also made a cute Grendel toy which got released at the CCSF, the dustdevil grendel plushie.
Zzzzoot and Uzag also created an awesome flower that grows in desert-y areas and shoots its seed everywhere when full-grown. It definitely provides enough seed for your creatures to nibble on, and it's just.. very pretty. 😀 Go get the Puff Plant for your world too!
Four metarooms, if you count the capillata extension, have also been released at the CCSF. One of them is the Betaship, a metaroom project that I started which is open for community contributions in any form or shape, think code, images, music, whatever.
Two metarooms from the Banshee Ark project have also been released, the Grendel Meso and the Desert Hideout. Together with those, the Capillata Extension has also been released. Since I was involved with the creation of those, I can't say that they're amazing. But they are. Go download them. -shot'd-
Oh and of course we also have Amaikokonut's awesome Advanced Protective Tub, which allows you to give your creatures custom names, allow you to compose specific naming lists with custom names, and decide whether your creatures' names are hereditary and other nifty stuff.
Amaikokonut also released the Hera scenario script, a special scenario for your world that only allows female creatures into your world, using a special scoring system to only create offspring from the creatures that are thriving the most. You can use the Magic Words core to send commands to the Hera script, controlling every aspect in detail. It's a very special script and it's definitely a very interesting experiment worth running.
During the CCSF, there have also been a lot of interesting blog posts from her, and some updates on some other agents, like the improved creature nametags and even a script that allows you to show the Cellular Automata in a specific room.
That isn't everything she posted on the blog either, so if you want to read her blog posts from during the CCSF, I would totally recommend that.
During the CCSF, a new blog also started. Enter the Pappus Café!
I haven't been able to check out all of the new agents during the CCSF, so I'd definitely recommend checking out all of the releases and articles on the CCSF blog page.
One thing about the CCSF I didn't like as much was the fact that there were barely any events for community members to participate in. There were no wolfling runs or contests or anything to really get people involved during the CCSF. But oh well, we still have next year's CCSF. Amaikokonut pointed out that it will actually be the fifteenth CCSF. Can you believe that? The Creatures Community surely has gone a long way.
When this year's CCSF ended, I decided to contact Ylukyun over at Creaturescaves to create a survey for next year's CCSF, and he made one. Some thought I was crazy to hold it this early. But since the Creatures Community is so shattered around, I'm sure a survey that runs 2-ish months will be better at reaching more community members. Please please fill in the survey here! I'm volunteering to be next year's (co-)coördinator.
….Oh, and if you don't know where the heck the Creatures Community is right now and how they get in contact with each other now, download Discord and find the current Creatures discord channels on the Creatures Wiki.
That's all folks!